GETTING STARTED
WITH GARUDA
A visual journey to discover
and navigate gadgets
Let's take a look at Garuda's key features. It might be a good
idea to print this out or display it on a different screen so
that you're free to work with the Garuda Dashboard.
Before we set off, make sure your computer is online.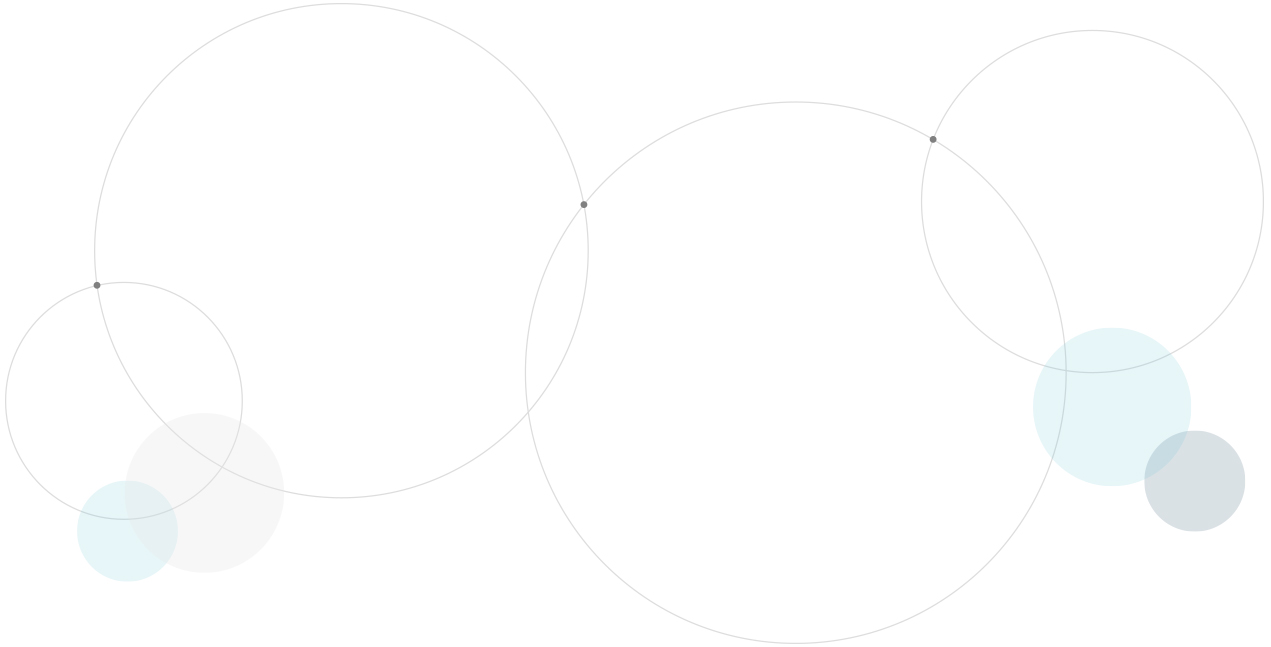 W

ATCH GARUDA IN ACTION.

There is a short video that walks you through the Garuda experience.
S

TEP 01
---
DOWNLOAD

Mac Users: Facing issues with installing Garuda on Mac? Click here.
Garuda 1.4
Over 40 gadgets on the dashboard from over 20 Alliance members
Gadgets for pathways, database, simulations and many more
Excel Support - Garuda 1.4 supports communicating with Excel!!
Support for R in Garuda (RinGO), Python and Matlab available for developers
In the Category pane on the left, you will be able to see your gadgets separated by type,
or together, under All. The most essential gadgets, though, are shown under Starter Kit.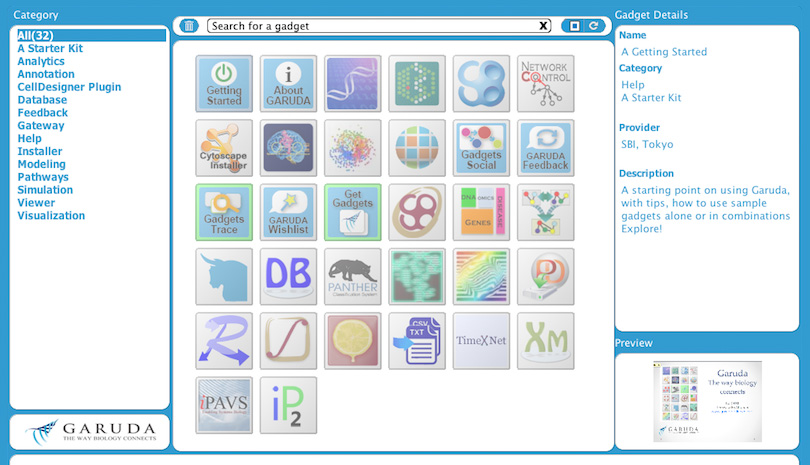 So first, under Starter Kit, find the Gadget Social icon (you'll see the name of a gadget in the Gadget Details pane on the right once you've clicked on it) and double-click. The gadget will open, and you'll see a visual representation of all your gadgets in their "social" context. Each circle represents a gadget. Click on a circle, and you'll see an outline of how that gadget can be used, its possible input and output data types, and a visual representation of its best potential upstream and downstream connections in a workflow. Purple tells you that the gadget has upstream and downstream paths. Blue is upstream only; red is downstream only. And size matters: the bigger the circle, the greater the gadget's potential connectivity—the more "sociable" it is.

You'll see some dark gray circles with no connections. A number of these are meta-gadgets: instruments for navigating a path through the Garuda gadget universe. Gadget Social is itself an example of a meta-gadget. Others are new gadgets that don't yet have any "friends". If you have an idea of how one of these gadgets could be used in combination with others, please suggest it. Help gadgets get acquainted!
Back at the Starter Kit, if at any stage you need help or basic information, just double-click on Getting Started to launch this page which you are reading now. Here you'll find the latest release information, explanatory images, helpful tips and other useful guidance.
If you're still with us here in the text version, then double-click on the About Garuda icon (in the Starter Kit) to put the entire Garuda Alliance initiative in context. What challenges do biology researchers face? How can Garuda address them? What are the technical features of Garuda and its gadgets? About Garuda will brief you on all these matters.
Next, over in the Category pane on the left, select Feedback. The path to the future of biology is an endless journey, and we want to make sure the road has as few potholes as possible. Use the Feedback gadget to let us know what we need to fix. If you have suggestions for new ways we could improve the Garuda experience, send those via the Wishlist gadget.
S

TEP 03
---
DISCOVER AND NAVIGATE THROUGH GARUDA
Now, here's a situation that you've probably found yourself in: you have some results from an experiment or experiments, and you want to analyze them, but you don't know what the best tool for the job is. What do you do?
You probably search on Google, ask friends and colleagues. Then when you decide on the software you install it…but did you get the right version? Do you have the necessary libraries? Where's the documentation? How do I input data? And of course one piece of software probably won't be enough—so often you need multiple analytic tools.
This is where Nandi comes in. Just as Garuda is Vishnu's mount, Nandi, a powerful bull, is Shiva's. As for you, Nandi is your helpful virtual assistant. Present Nandi your data, and it will show you the gadgets that can work with it.
Find Nandi in the Starter Kit (it's the bull icon) and double-click. Click on the help icon (question mark sign on the top right) and you'll see a diagram explaining the basics of Nandi, step by step. Follow those steps and see how it works!
Remember: Choose a Sample file or load your own data and click on "Discover" button to find the gadgets that can analyze your data (a list you want to enrich, a pathway you want to run simulations on). Nandi will bring the tools to you.
Hit the Discover button, and you'll see a list of gadgets that work with your data in the bottom pane, the Garuda Discovery Engine. Double-click on the gadget you want, and it will open; Garuda will automatically send your data there.
You can actually use the Discover feature within most gadgets, so you don't have to think about your workflow before moving forward. You can just flow on the go, always finding the best course for your data.
S

TEP 04
---
FLOW ON THE GO WITH GARUDA
Finally, let's start a Garuda workflow.
Launch Nandi again, and click on Load Sample Files. Choose the file GenesSymbols.txt (a list of genes), select genelist from the File Content dropdown menu, and then hit the Discover button. As you can see, Garuda has discovered six gadgets that can analyze the data in the file. Let's say we want to analyze our list of gene symbols. What does Garuda recommend for that particular task? Click on the "What do you want to do?" drop-down menu near the top of the Nandi window, and choose "Analyze a list of gene symbols".
Choose Analyze a list of gene symbols from the What do you want to do? option. Nandi will spotlight for you the recommended gadgets to analyze your gene list!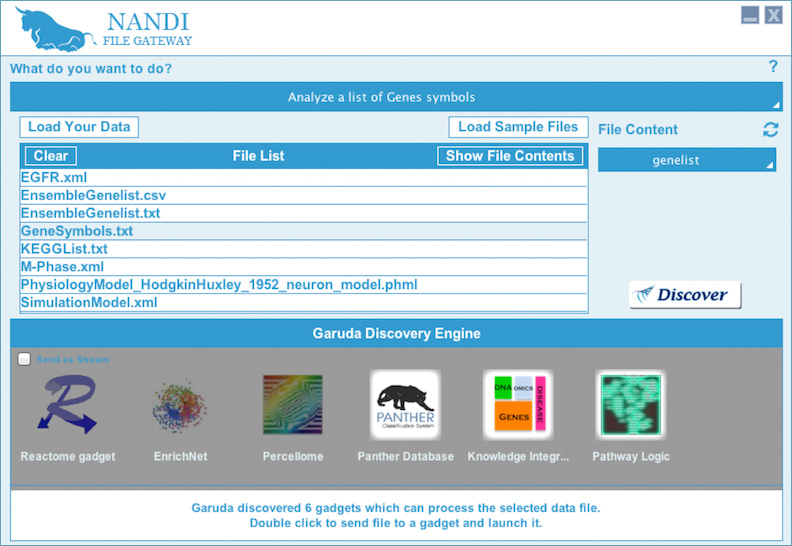 It seems like Panther might be a good gadget to start with. Developed by a team at the University of Southern California and the Systems Biology Institute in Tokyo, the Panther gadget does enrichment analysis on Gene Ontology (GO) family terms, pathways, categories, and more using the Panther Classification system. Double click on the Panther gadget icon to launch it.
Garuda will launch Panther and automatically send the list of genes to Panther for analysis.
While Panther is processing the data, feel free to explore other gadgets with the list of genes. As you can see, Garuda allows you to work with multiple gadgets in parallel, no problem.
Panther has enriched some of the pathways in our gene data, but now you want to visualize them. What's the gadget for the job?
Ask Garuda.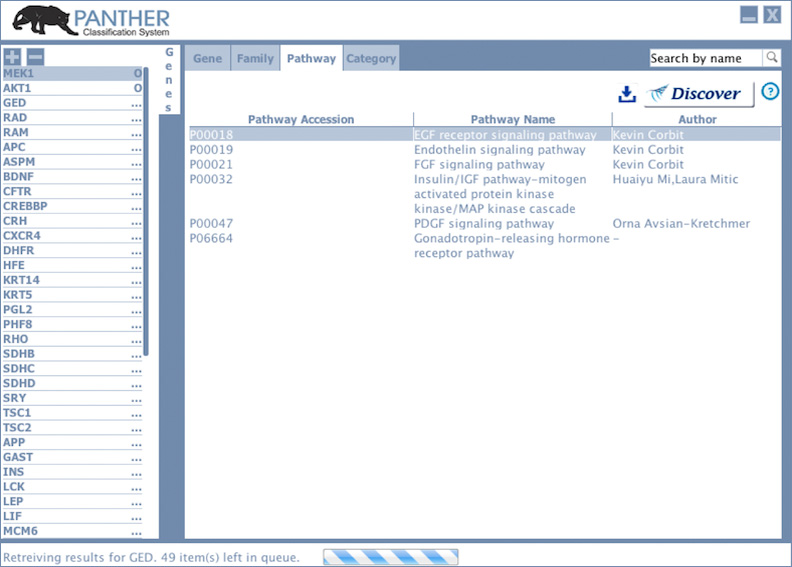 Select the Pathways tab on Panther, select a pathway. Click on the Discover button inside Panther, and select one of the gadgets that pop up. For now let's double-click on CellDesigner. Garuda will launch the CellDesigner gadget and automatically send along the pathway or pathways you want to visualize.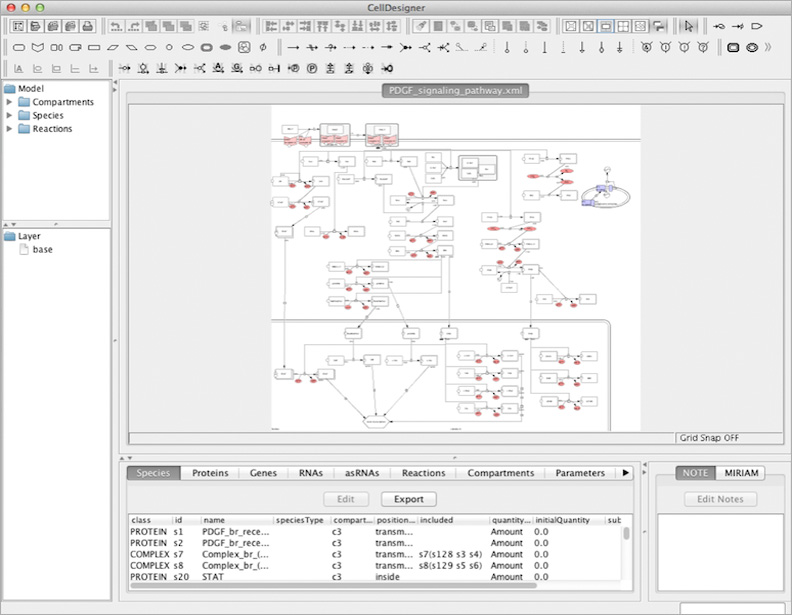 Next, how about we do extract molecules in this pathway? Again, Garuda does not need workflows to be defined in advance—let it help you figure out the best way forward wherever you are on your path to new knowledge. Hit the Discover button inside CellDesigner and then send your file to Species Extractor, which is a CellDesigner plugin to extract molecules.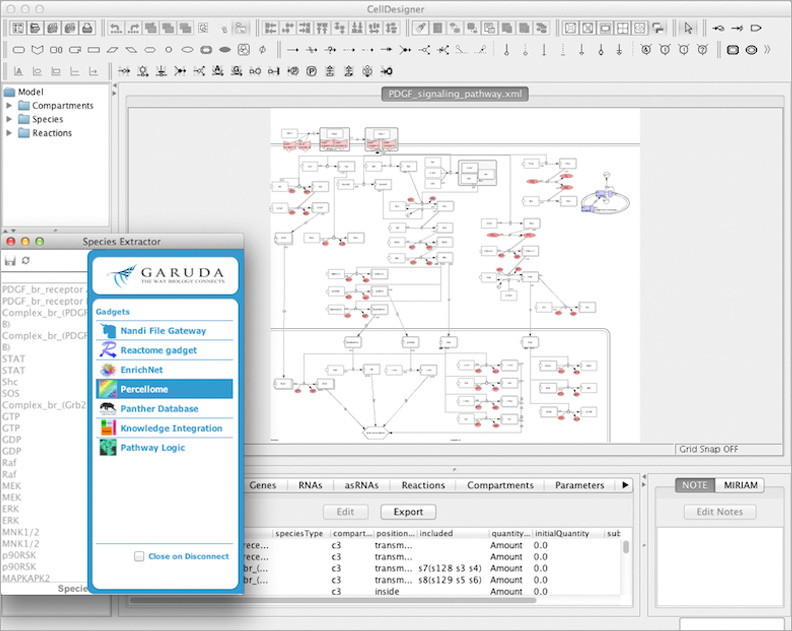 Next, how about we do explore experimental data for the molecules in this pathway? Hit the Discover button inside Species Extractor and send the data to Percellome Gadget. Percellome, developed by the Division of Cellular and Molecular Toxicology, Biological Safety Research Center, National Institute of Health Sciences, Japan, is a unique database of experimental data on mouse genes under perturbation by a wide range of chemicals.
You can select your gene of interest, select the chemical of interest and get the data under different time and dose dependant protocols. What is the effect of Caffeine on a gene, say MEK?
Explore this in Percellome.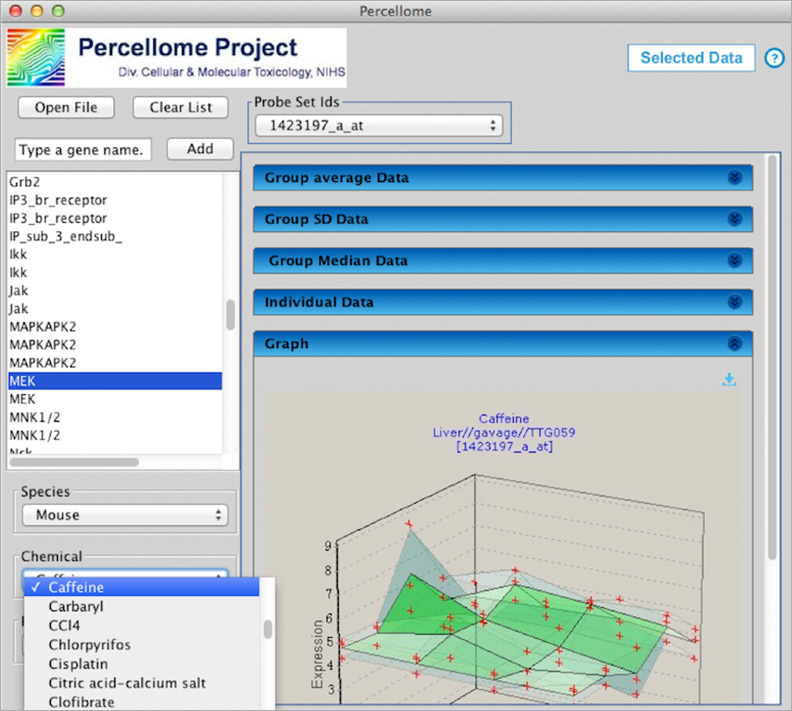 And if you're worried that you're moving forward too quickly…don't be. Garuda keeps track of all your moves. Double-click on the Garuda Trace gadget from the dashboard to see your action timeline! Try that now. You'll see that Reactome, for example, has enriched our genes for pathways in its database.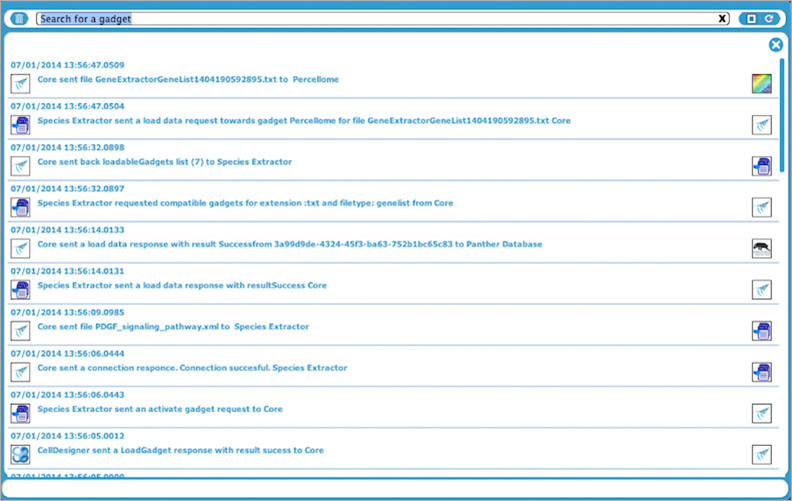 O

NE LAST THING
---
EXCEL SUPPORT IN GARUDA
A key part of data exchange in the research community is based on Microsoft Excel file formats. The flexible nature of the Garuda platform allows for developing macros which enable Excel to communicate with other Garuda gadgets, thus increasing the discoverability of analytics gadgets right from within Excel. The current Excel gadget is a macro workbook which is available from the Garuda Gateway and shows as a gadget on the Dashboard.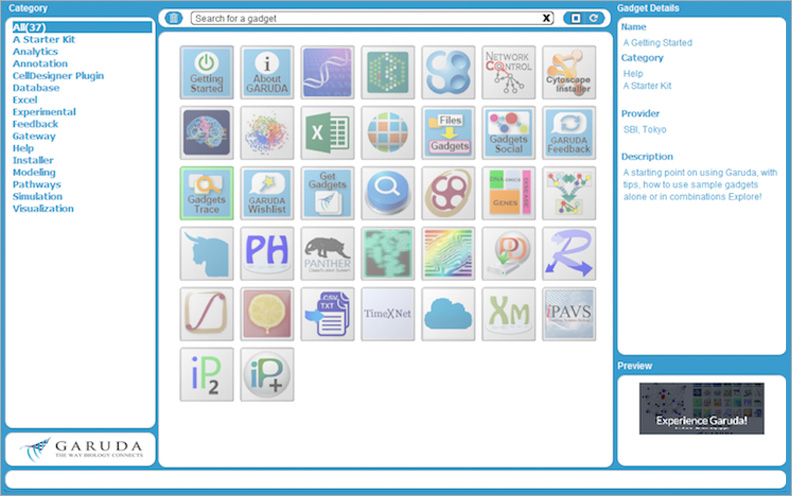 On a Windows system with Excel already installed, double-clicking the gadget icon will launch the Garuda Excel workbook which allows users to discover and navigate gadgets for analyzing their data.
You may need to repeat step 3 and 4 to activate the discovery
The gadget in an Excel workbook. On closing it, please do not save/modify the workbook when prompted
(save the files separately)
This gadget is in alpha version and works only for specific file types on Windows machines where
Excel 2013 or higher is installed
The Garuda Excel gadget can also receive files compatible with Excel from other gadgets for processing on Excel. More features and deep integration are on their way soon! Please give you feedback and wishes on the Garuda Feedback and Wishlist gadgets.
We're going to end our User Experience Story here, and leave you to explore the endless possibilities of Garuda!
G

ARUDA HELPLINE

The Garuda platform is in beta. Please contact garudahelpline[AT]gmail.com for more information.